Since then, most of the refugees have returned to Rwanda. Despite substantial international assistance and political reforms - including Rwanda's first local elections in March 1999 and its first post-genocide presidential and legislative elections in August and September 2003, respectively - the country continues to struggle to boost investment and agricultural output and to foster reconciliation. A series of massive population displacements, a nagging Hutu extremist insurgency, and Rwandan involvement in two wars over the past four years in the neighboring Democratic Republic of the Congo continue to hinder Rwanda's efforts.
About Rwandan Refugee Basket Weaving
Tragically, Rwanda is best known for the horrific genocide that occurred in 1994. Nearly a million people, or about 10% of Rwanda's population, were killed.
Rwanda is now a country in which women are rising to the forefront of economic, political and social institutions. In the immediate aftermath of the genocide, females represented 70% of Rwanda's population since so many men had been killed. After some time had passed, the women were faced with a decision of either collapsing of inconsolable pain, or moving on together to rebuild their lives.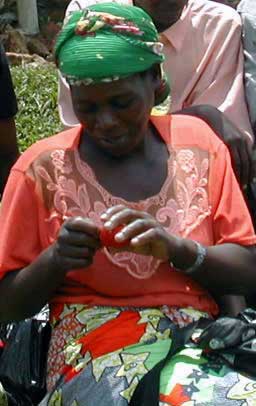 Rwandan woman weaving a sisal basket
in a refugee camp
Because so many men had perished, it was clear that women must play a significant role in Rwanda's rebuilding and democratic transition. Previously excluded from positions of influence, women now participate as elected officials, community leaders, and entrepreneurs.
Today widows come together to make exquisite traditional baskets and create economic opportunities for their families. As they sit and weave, they heal in body, mind, and soul, and position themselves and their families for a more stable future. The Rwandan artisans who make our baskets are from Gitarama and Kigali-Ngali provinces, two areas that were devastated during the 1994 genocide.
The Rwandan baskets
sold by The Peace Company are made by women working in programs in refugee camps. As part of our Peace Gifts for Global Healing program, a portion of profits from your purchase will be returned to non-profit programs that directly provide assistance to vulnerable Rwandan refugees.
These finely crafted, delicate baskets are made from natural fibers and woven using a technique that has been practiced for almost a thousand years. The baskets, with their unique form only made in Rwanda, have served many functions in Rwandese history including holding food, celebrating weddings, and carrying secrets from one woman to another.
The sale of beautiful, handmade goods plays an important role in Rwanda's transition.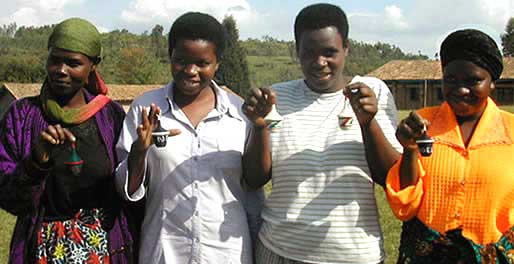 Rwandan weavers show off Peace Fortune Basket ornaments
The traditional Rwandese basket with its conical top and "zipzag" stripes is the centerpiece of Rwandan rebuilding, and a national symbol that adorns the official Rwandese seal.
For More Information
For more information about human rights issues in Rwanda, please visit the Human Rights Watch website.
Visit the website of AVEGA-AGAHOZO, a state recognized, non-profit organization conceived and created by 50 widows who themselves are survivors of the Rwandan genocide.