NEW! Bulgarian Pottery Decanter

Each piece is individually formed and painted and have the artist's stamp.

From Oakland Pottery's Danko.

Height: 20" Width: 6"


Item #: GFT-311
Regularly: $265.00
Our Price: $218.00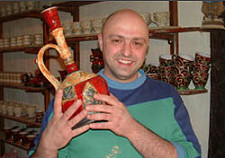 More About the Artist
DANKO lives in northern Bulgaria. He grew up around his grandmother who was a potter, and he began throwing clay when he was young. He attended an art academy where he studied painting, but continued to practice his ceramic skills.
During a trip to Prague in the late 1990's, he was very fascinated by the way artists were incorporating design and colors into their work. Coming home with new energy, he started creating a new style of pottery. The markings and designs on his pieces are drawn from the markings on antique Bulgarian furniture and pottery he has grown up with.
His work is functional as well as sculptural, and melds an old world form with contemporary styling. His pieces are expressive, whimsical and truly unique. Every piece is individually formed and painted and includes the artist's stamp. Oakland Pottery invites you to enjoy the talents of this gifted artist.